Tom und Ben Birchall haben das Hauptrennen zur FIM Sidecar World Championship im belgischen Spa gewonnen. Nach elf Runden auf der 6,985 Kilometer langen Strecke dominierten sie vor den WM-Titelverteidigern Todd Ellis/Emanuelle Clement und den drittplatzierten Stephen Kershaw/Ryan Charlwood.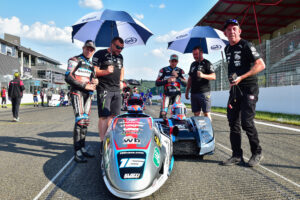 Die Birchalls ließen gleich in der ersten Runde durchblicken, dass sie sich heute nicht geschlagen geben werden. Nach einem präzisen Start von Polesetter Ellis überholten sie ihren britischen Landsmann gleich in der zweiten Kurve und setzten sich an die Spitze. Dort bildete sich eine Vierergruppe mit den Birchalls, Ellis/Clement, Sam Christie/Tom Christie und Stephen Kershaw/Ryan Charlwood.
Hinter dem Quartett klaffte eine Lücke. Es war klar, dass die ersten vier Gespann-Teams die Podiumsplätze in diesem Rennen unter sich ausmachen würden, in dem Ellis/Clement bald wieder die Führung zurück eroberten. Das Ganze entwickelte sich zum Katz- und Maus-Spiel. Jeder lauerte auf den Fehler des anderen und seine Chance, einen solchen auszunutzen. Es waren noch drei Runden zu fahren, als Birchall/Birchall plötzlich den Angriff wagten und sich an die Spitze setzten. Kershaw/Charlwood rutschten im Schlepptau gleich mit an Ellis/Clement vorbei und waren plötzlich Zweite. War das das entscheidende Manöver? Nein, in der zehnten Runde machten Ellis/Clement alles rückgängig. Aber die Position hielten sie auch nicht lange. Birchall lag bei der Zieldurchfahrt letztlich mit zwei Zehntelsekunden vor ihnen. Kershaw/Charlwood hatten dahinter auch nur einen Rückstand von 1,488 Sekunden. Christie/Christie folgten mit 1,876 Sekunden.
Dahinter war es nicht weniger turbulent zugegangen. Noch in der ersten Runde drehten sich Harry Payne/Kevin Rousseau, nachdem Tim Reeves/Mark Wilkes an ihnen vorbeigeprescht war. Pekka Päivärinta/Ilse de Haas konnten nicht ausweichen und es kam zur Kollision. Für Payne ging es anschließend weiter. Für Päivärinta war es das Aus.
Reeves, der im Training noch mit Elektrikproblemen gekämpft hatte und im Sprintrennen Dritter geworden war, führte diesmal die Verfolgergruppe an, in der es diesmal mehrere Ausfälle zu verzeichnen gab. Bennie Streuer fuhr mit technischen Problemen an die Box. Ted Peugeout, Claude Vinet und John Holden sahen die Zielflagge ebenfalls nicht. Und Pekka Päivärinta wurde wie schon erwähnt durch Paynes Dreher gestoppt.
In der Gesamtwertung führten die Ergebnisse zu vielen Positionswechseln. Die Birchall-Brüder führen die Tabelle jetzt mit 95 Punkten vor Ellis/Clement an, die damit eine Position gutmachten. Schon in einer Woche geht es für die Sidecar-Teams weiter, wenn die nächste Runde im tschechischen Most auf dem Kalender steht.
Ergebnis Hauptrennen
1. Ben Birchall (GBR) / Tom Birchall (GBR)
2. Todd Ellis (GBR)/ Emanuelle Clement (FRA)
3. Stephen Kershaw (GBR) / Ryan Charlwood (GBR)
4. Sam Christie (GBR)/ Tom Christie (GBR)
5. Tim Reeves (GBR) / Mark Wilkes (GBR)
6. Harrison Payne (GBR) / Kevin Rousseau (FRA)
7. Josef Sattler (DEU) / Luca Schmidt (DEU)
8. Robert Biggs (GBR) / Ferry Segers (NLD)
9. Rupert Archer (GBR) /Adam Christie (GBR)
10. Kevin Cable (GBR) / Charlie Richardson (GB)
WM-Punktestand nach vier von 14 Rennen:
1. Birchall 95 Punkte; 2. Ellis 74; 3. Payne 49; 4. Kershaw 47; 5. Christie 43; 6. Reeves 36; 7. Sattler 34; 8. Päivärinta 29; 9. Streuer 25; 10. Archer 20

World Championship Sidecar: Birchall brothers win main race in Spa
Tom and Ben Birchall won the main race of the FIM Sidecar World Championship in Spa, Belgium. After eleven laps on the 6.985-kilometre track, they dominated ahead of defending champions Todd Ellis/Emanuelle Clement and third-placed Stephen Kershaw/Ryan Charlwood.
The Birchalls let it be known right from the first lap that they would not admit defeat today. After a precise start by pole setter Ellis, they overtook their British compatriot immediately in the second corner and took the lead. There a group of four formed with the Birchalls, Ellis/Clement, Sam Christie/Tom Christie and Stephen Kershaw/Ryan Charlwood.
After the quartet, there was a gap. It was clear that the first four teams would decide the podium places in this race, in which Ellis/Clement soon regained the lead. The whole thing developed into a game of cat and mouse. Each lurked for the other's mistake and their chance to exploit one. There were still three laps to go when Birchall/Birchall suddenly dared to attack and took the lead. Kershaw/Charlwood slipped right past Ellis/Clement in tow and were suddenly second. Was that the decisive manoeuvre? No, on the tenth lap Ellis/Clement reversed everything. But they didn't hold the position for long. Birchall was ultimately two tenths of a second ahead of them when they crossed the finish line. Kershaw/Charlwood were also just 1.488 seconds behind. Christie/Christie followed with 1.876 seconds.
Behind them, the action was no less turbulent. Harry Payne/Kevin Rousseau spun on the first lap after Tim Reeves/Mark Wilkes had sprinted past them. Pekka Päivärinta/Ilse de Haas were unable to avoid them and a collision occurred. For Payne, the race went on afterwards. For Päivärinta it was the end.
Reeves, who had struggled with electrical problems in the practice session and had finished third in the sprint race, led the chasing group this time, in which there were several retirements. Bennie Streuer pitted with technical problems. Ted Peugeout, Claude Vinet and John Holden did not see the chequered flag either. And Pekka Päivärinta, as already mentioned, was stopped by Payne's spin.
In the overall standings, the results led to many position changes. The Birchall brothers now lead the standings with 95 points ahead of Ellis/Clement, who gained one position. In just one week's time, the sidecar teams will be back in action when the next round is scheduled for Most in the Czech Republic.
Main Race
1. Ben Birchall (GBR) / Tom Birchall (GBR)
2. Todd Ellis (GBR)/ Emanuelle Clement (FRA)
3. Stephen Kershaw (GBR) / Ryan Charlwood (GBR)
4. Sam Christie (GBR)/ Tom Christie (GBR)
5. Tim Reeves (GBR) / Mark Wilkes (GBR)
6. Harrison Payne (GBR) / Kevin Rousseau (FRA)
7. Josef Sattler (DEU) / Luca Schmidt (DEU)
8. Robert Biggs (GBR) / Ferry Segers (NLD)
9. Rupert Archer (GBR) /Adam Christie (GBR)
10. Kevin Cable (GBR) / Charlie Richardson (GB)
Points after 4 from 14 races:
1. Birchall 95 Punkte; 2. Ellis 74; 3. Payne 49; 4. Kershaw 47; 5. Christie 43; 6. Reeves 36; 7. Sattler 34; 8. Päivärinta 29; 9. Streuer 25; 10. Archer 20