Nach 14 Rennen zur FIM Sidecar World Championship stehen Todd Ellis/Emmanuelle Clément als neue Weltmeister fest. Die britisch-französische Paarung hat den Titel im Finale im portugiesischen Estoril verteidigt. Die 26-jährige Clément ist zugleich die erste Frau, die zwei Titel hintereinander in dieser Disziplin gewonnen hat. Für die Motor Presse Stuttgart, die 2023 die Promotion und Organisation der Seitenwagen-Weltmeisterschaft, war die Saison eine gelungene Premiere mit einem spannenden Verlauf bis zum Schluss.
Erst im letzten Rennen der Saison fiel die Entscheidung im Titelkampf zwischen Todd Ellis/Emmanuelle Clément und den Birchall-Brüdern Ben und Tom. Die Chancen der Briten auf den Gesamtsieg waren mit 16 Punkten Rückstand auf die Titelverteidiger überschaubar, doch nicht aussichtslos. Abgerechnet wird erst nach der Ziellinie. Und bis dahin kann viel passieren. Allerdings hätte nur ein Ausfall den Gesamtsieg von Ellis/Clément noch verhindern können.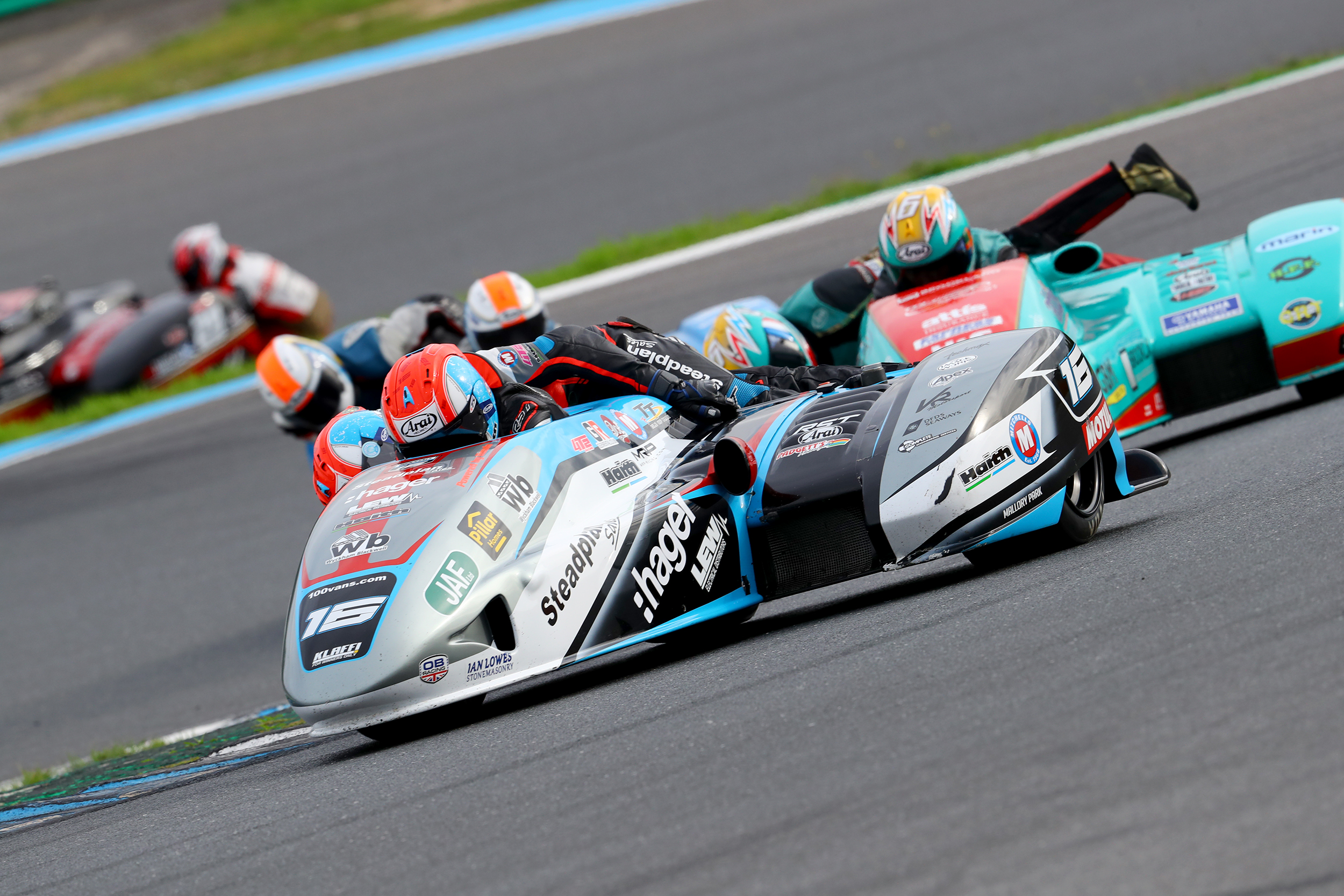 Die Polesetter Pekka Päivärinta/Luca Schmidt bogen nach dem Start als Erste in die erste Kurve ein, doch nach der zweiten Runde waren bereits die Birchalls sowie auch Ellis/Clément am Finnen vorbeigerast. Der Abstand zwischen den Titelfavoriten schrumpfte auf zwei Zehntelsekunden, die sich nur einen Wimpernschlag später in eine halbe Sekunde verwandelten und umgekehrt. Im 4,182 Kilometer langen Autodromo do Estoril bebte der Asphalt. Im Verlauf des Rennens musste Päivärinta, der das gestrige Sprintrace gewonnen hatte, weitere Federn lassen. Er verlor im Kopf-an-Kopf-Duell einen Platz an Sam Christie/Tom Christie. Stephen Kershaw/Ryan Charlwood spielten in der gleichen Gruppe mit, die sich langsam den Spitzenreitern näherte. In der zehnten von insgesamt 17 Runden fanden die Christie-Geschwister den Anschluss, um nur zwei Umläufe später Ellis/Clement zu überholen. Auch mit den Birchalls machten sie in der vorletzten Runde kurzen Prozess. Die Christie-Jungs gewannen das Rennen. Die Birchalls wurden Zweite und die drittplatzierten Ellis/Clément standen als neue Weltmeister fest.
Emmanuelle umarmte ihren Lebensgefährten noch im Cockpit der LCR-Yamaha hockend. Die Birchalls, die als einzige im Feld mit einem LCR-Honda-Gespann fuhren, kamen angelaufen und umarmten die neuen Meister. Die quirlige Emmanuelle ließ bei der Siegerehrung den Christie-Brüdern noch eine Extra-Dusche Champagner in den Rücken der Lederkombi laufen. In der Sidecar-WM steckt viel Leben, auch wenn wie meistens nicht mehr alle Teams zum Finale gereist waren.
Ergebnis Sidecar-WM, Hauptrennen
1. CHRISTIE / CHRISTIE (GBR/GBR)
2. BIRCHALL / BIRCHALL (GBR/GBR)
3. ELLIS /CLÉMENT (GBR/FRA)
4. PÄIVÄRINTA / SCHMIDT (FIN/DEU)
5. KERSHAW / CHARLWOOD (GBR/GBR)
6. PAYNE / ROUSSEAU (GBR/FRA)
7. STREUER / KÖLSCH (NLD/DEU)
8. LEGLISE / CESCUTTI (FRA/FRA)
9. ARCHER / CHRISTIE (GBR/GBR)
10.CABLE / RICHARDSON (GBR/GBR)
FIM Sidecar: Todd Ellis/Emmanuelle Clement are World Champions
After 14 races in the FIM Sidecar World Championship, Todd Ellis/Emmanuelle Clement are the new world champions. The British-French pairing defended their title in the final in Estoril, Portugal. The 26-year-old Clement is also the first woman to win two titles in a row in this discipline. For Motor Presse Stuttgart, which is responsible for the promotion and organisation of the sidecar world championship in 2023, the season was a successful premiere with an exciting course right to the end.
It was not until the last race of the season that the title fight was decided between Todd Ellis/Emmanuelle Clement and the Birchall brothers Ben and Tom. With a 16-point gap to the defending champions, the British team's chances of winning the overall title were manageable, but not hopeless. The score will be settled after the finish line. And until then, a lot can happen. However, only a retirement could have prevented Ellis/Clement from winning the overall title.
Polesetter Pekka Päivärinta/Luca Schmidt turned into the first corner first after the start, but after the second lap the Birchalls as well as Ellis/Clement had already raced past the Finn. The gap between the title favourites shrank to two tenths of a second, which turned into half a second just a blink of an eye later. The asphalt shook in the 4.182-long Autodromo do Estoril. Päivärinta suffered further losses in the course of the race. He lost a place to Sam Christie/Tom Christie in a head-to-head duel. And Stephen Kershaw/Ryan Charlwood were playing in the same group, which slowly approached the front runners. On the tenth of a total of 17 laps, the Christie siblings found the connection to overtake Ellis/Clement just two laps later. They also made short work of the Birchalls on the penultimate lap. The Christie boys won the race.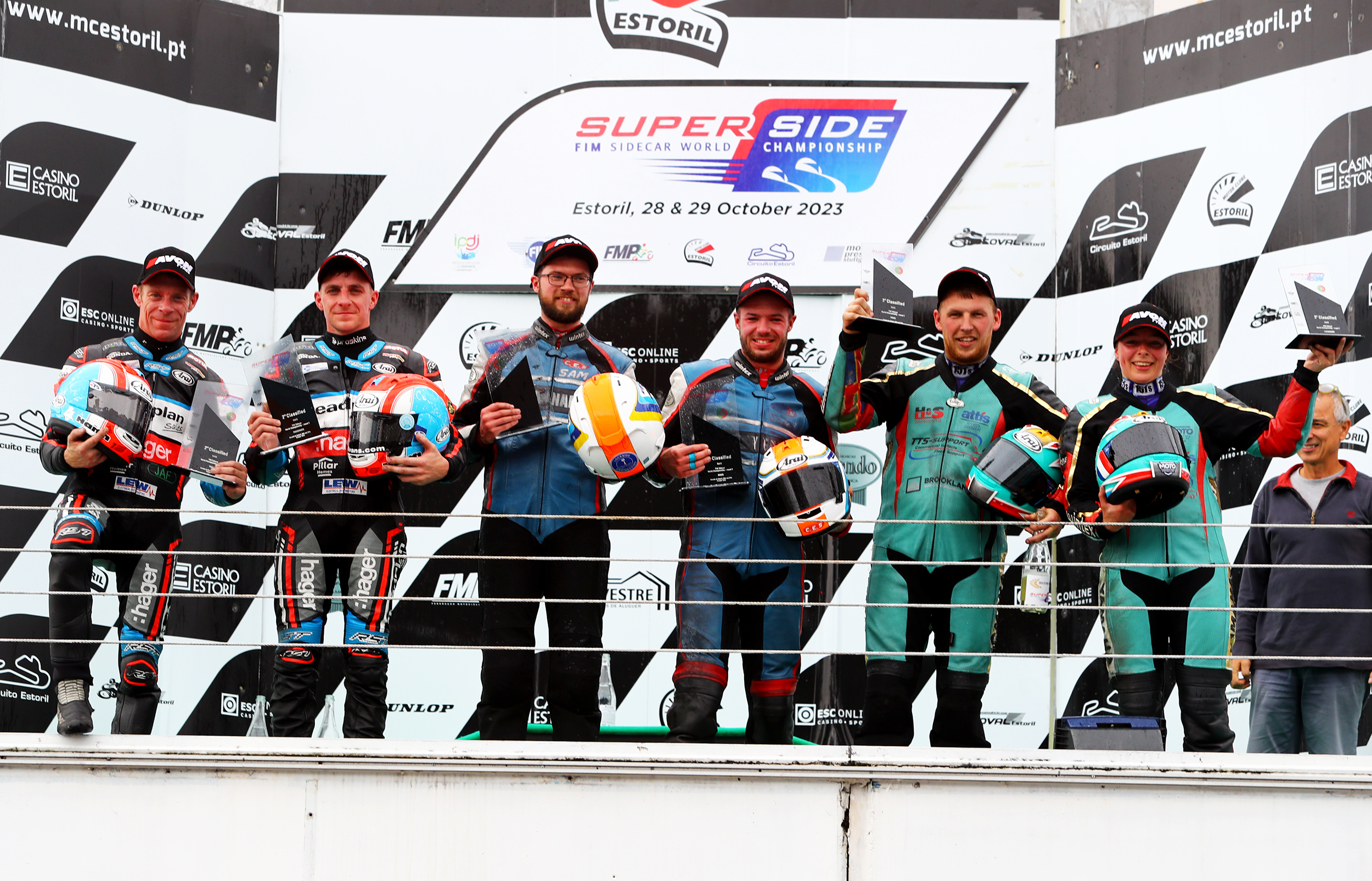 The Birchalls finished second and third-placed Ellis/Clement stood firm as the new world champions.
Emmanuelle hugged her life partner still squatting in the cockpit of the LCR Yamaha. The Birchalls, who were the only riders in the field with an LCR Honda team, came running up and hugged the new champions. The lively Emmanuelle ran an extra shower of champagne down the backs of the Christie brothers' leather suits at the presentation ceremony. There is a lot of life in the Sidecar World Championship, even if, as usual, not all teams had travelled to the finals.